2018.12.02 Sunday
ViperSpectra Reflector series V1200W Made in the U.S.A.

アメリカで人気のLED会社ヴァイパースペクトラは熟練者、素人に関わらず全米の農家より信頼を得ています。
ブラックドッグなどのブランドに比べると性能が良い上にお値段もグッと安い。最も高性能でお手頃なLEDとして
ここ最近ではアメリカを中心に大人気のブランドです!
東芝が2013に買収した米LED照明機器メーカーBridgelux(ブリッジラックス)社の高品質LEDを240個配列
レンズの寿命は長くなんと10万時間も使用可能。
関連記事 https://www.toshiba.co.jp/about/press/2013_04/pr_j2301.htm
12種類ものチップで構成されていてIR(赤外線)レンズが10個うめこまれています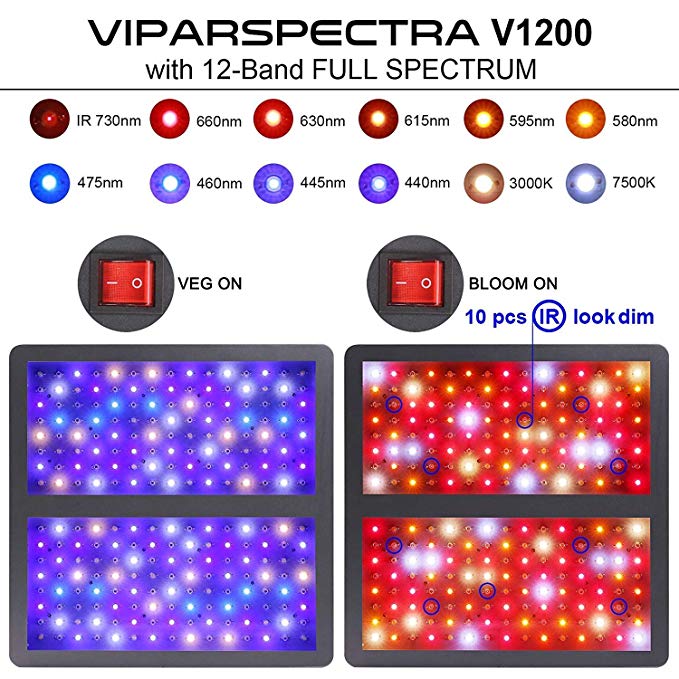 IRは薄暗く光るので故障しているのではありません
一番の特徴は何と言っても成長期、開花期を操作できるスイッチが付いていること。
これにより最も適したバランスの光を与えることができます。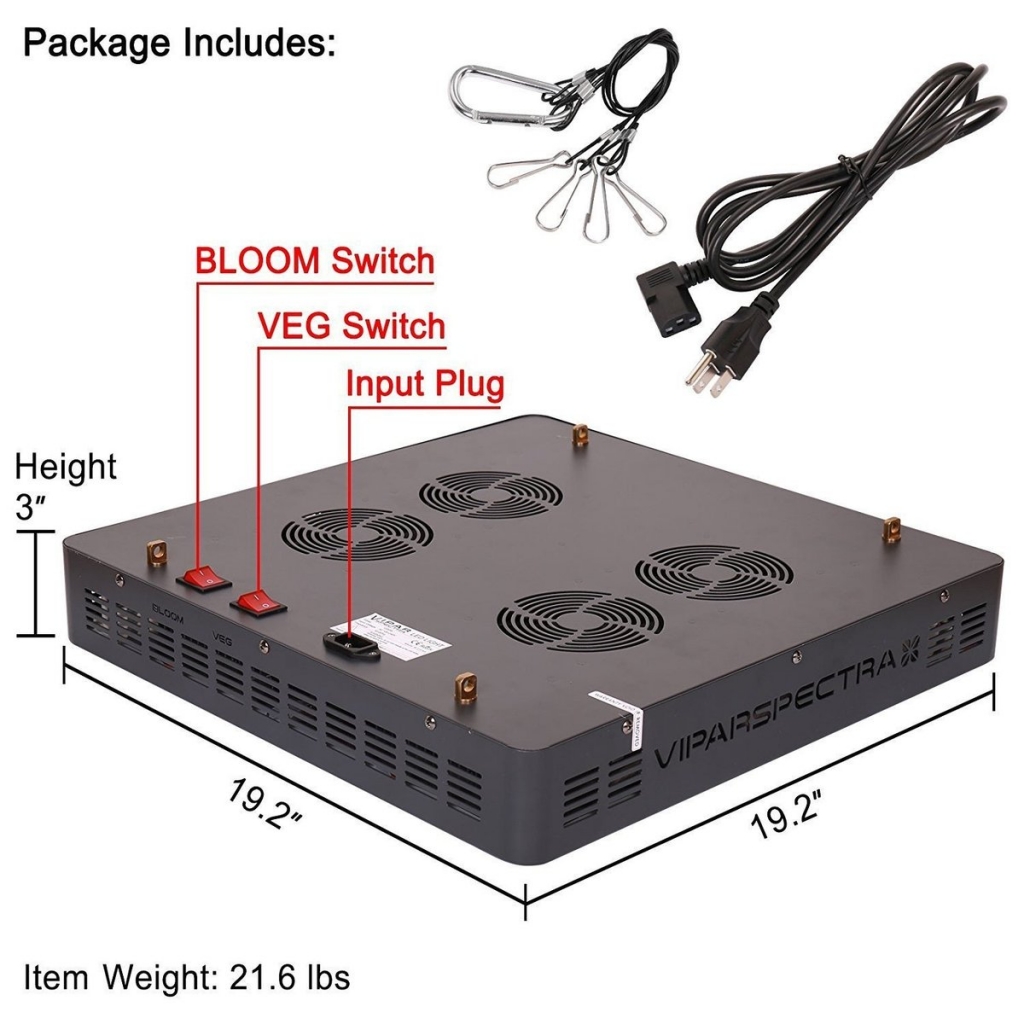 消費電力524ワット
直径約12cmの強烈な冷却ファン、アルミ製で効率良く温度を散らします!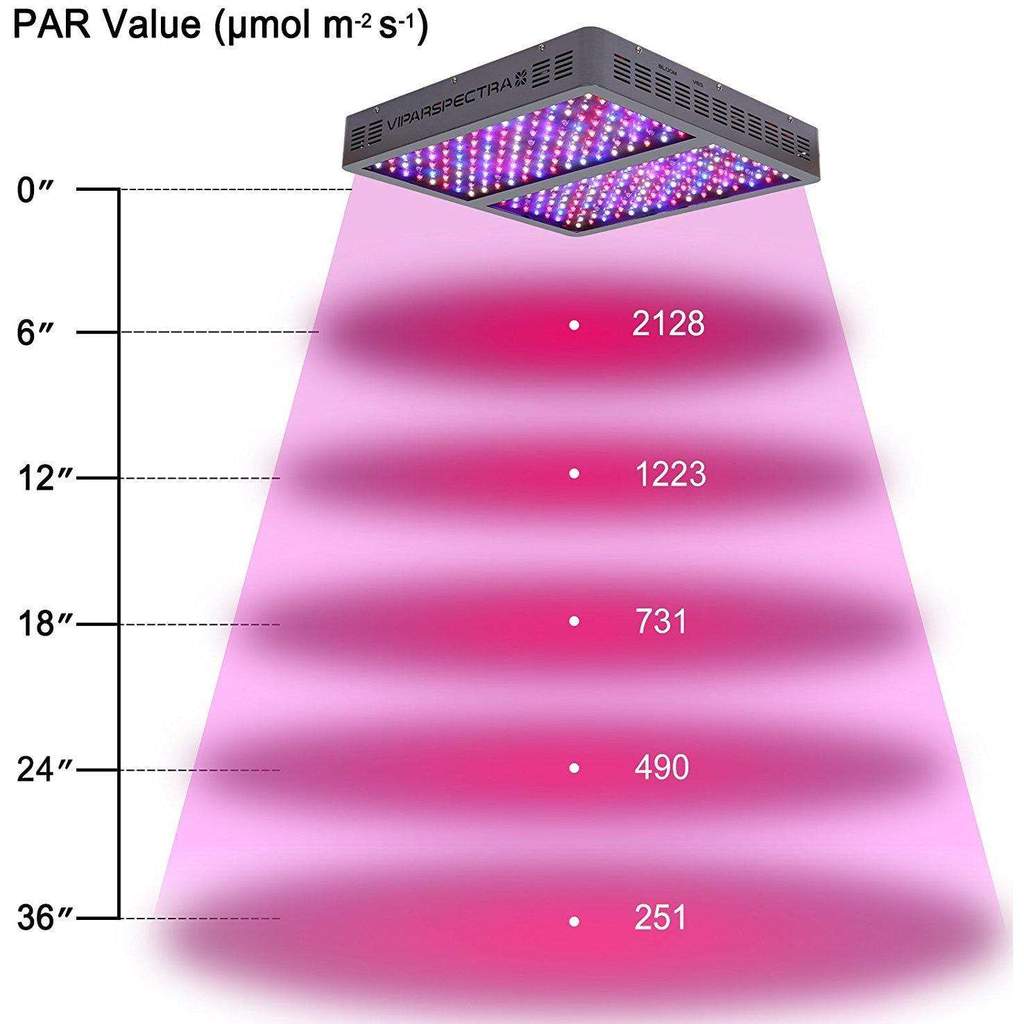 照射効率もバッチリです!
サイズ:49cm x 49cm x 7cm
重さ:約9kg
ボルト:AC110~220V
周波数:50-60Hz
LED個数:米ブリッジラックス社製240個
吊り高さ:約60cm~1.2m(期間によって前後します)
光量相当:HPS/MHの1000W程度
消費電力:520W
歪み率:15%
ライト寿命:100000時間
時期 / 吊高さ / 照射時間 / スイッチ
3~5日目:高さ110cm~120cm、10時間、Veg=オン/Broom=オフ
苗の時期:高さ100cm~110cm、12時間、Veg=オン/Broom=オフ
成長期 :高さ 80cm~100cm、18時間、Veg=オン/Broom=オン=照射範囲(135cm x 135cm)
開花期 :高さ 60cm~70cm、12時間、Veg=オン/Broom=オン=照射範囲(105cm x 105cm)
*あくまで推奨数値です。リーフ先がライトに向いていないときは少し距離を離すと良い場合もあります。
 農業の基本でもありますが環境によってプラントの声を聞いて調節してみてください。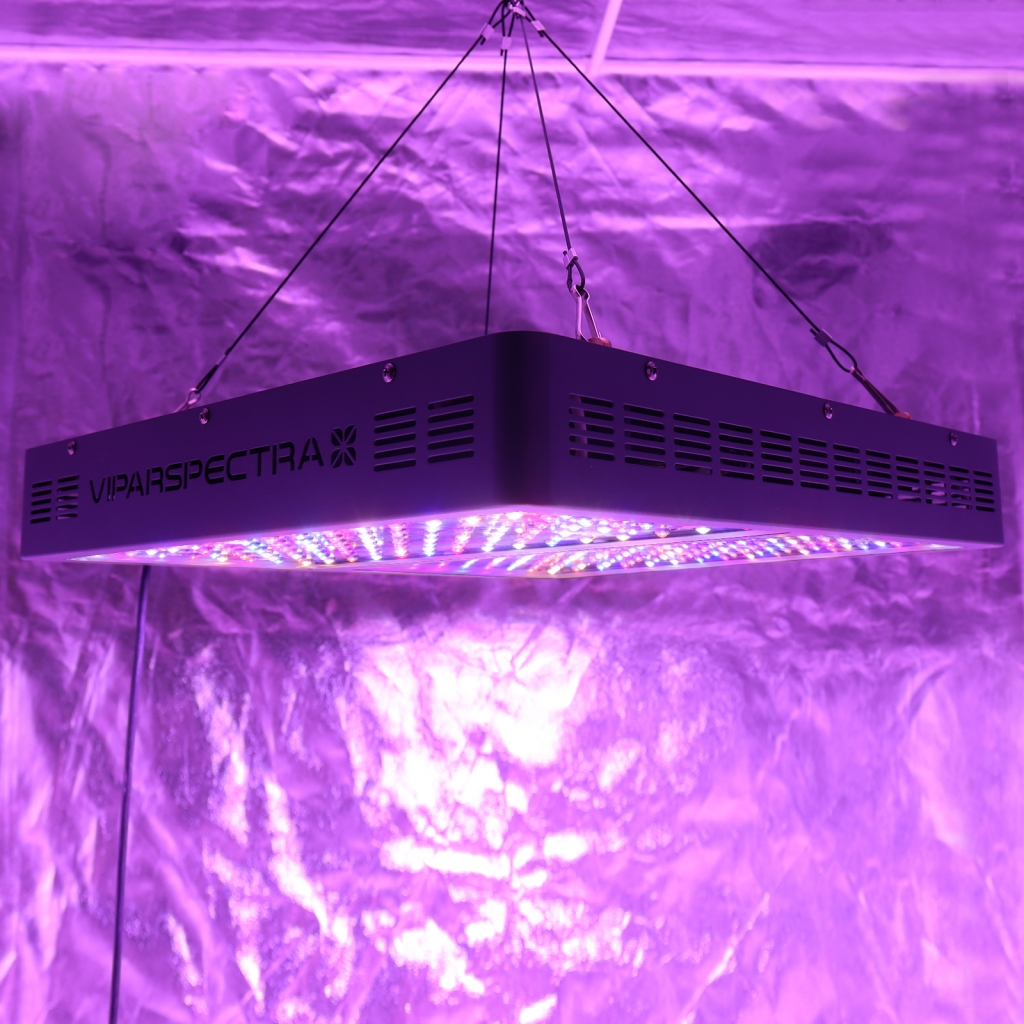 Viparspectra V1200 lamp is designed scientifically to balance the coverage of light.
This lamp offers optimal full spectrum- an ideal feature for growing marijuana.
The other lights in the market use 1200 watts. As compared to the traditional and other 1200 watts lamps, Viparspectra only consumes 524 watts.
The lamp has aluminum cooling heat sinks and high-speed 4.72-inch fans which offer easy heat dissipation.
The lamp's LEDs angle is 90º.
It has high-intensity 5 Watt Bridgelux/Epileds LED Chips.
It weighs about 21.6lbs.
The lamp comes with 6ft power cord.
Viparspectra V1200 comes with an extensive 3-year warranty.
About the design of the Viparspectra 1200
The indoor growers have designed this lamp after careful experimentation of several years and extensive testing. The lamp is designed to keep high PAR/Lumen balance and to offer suitable coverage. It is scientifically engineered to offer even and intense light that is not just concentrated in the center of the growing area. This helps to help prevent potentially burning the leaves and stunting plant growth.
The lamp design has revolutionary aluminum cooling heat sinks and cooling fans which are 70% cooler than the old-fashioned lights. Viparspectra V1200 provides mixed light of several colors and light warmth. This helps to use the watts to its full potential to meet the plant's needs. Also, the LED panels of this lamp have very low heat output.
The self-sufficient design of this lamp requires no extra ballast. The LED is long-lasting and easily controlled by the timer. The maintenance cost of this lamp is zero.